Solution Overview
Frictionless Assessment for Dynamic Cloud Environments
Expose the Vulnerabilities in Your Short-lived Cloud Assets Within Minutes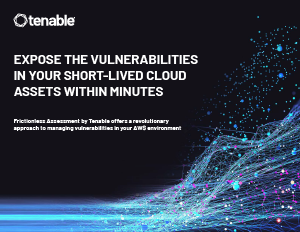 Do you have ephemeral cloud assets that auto-scale up and down regularly? If so, they can be easily missed by your scheduled vulnerability scans. Frictionless Assessment can help and is available to you today!
The new sensor in Tenable.io can help you continuously assess your cloud assets for vulnerabilities without the need to deploy scanners or install agents. Frictionless Assessment is especially effective against short-lived assets in your dynamic cloud environment.
Read the Frictionless Assessment e-book on securing ephemeral cloud assets.
Cloud
Web Application Scanning
Lumin
Tenable.ad
Tenable One
Tenable.io Web Application Scanning