Tenable Rated Highest Among 'Customers' Choice' Vendors in Product Capabilities in the 2020 Gartner Peer Insights 'Voice of the Customer' Report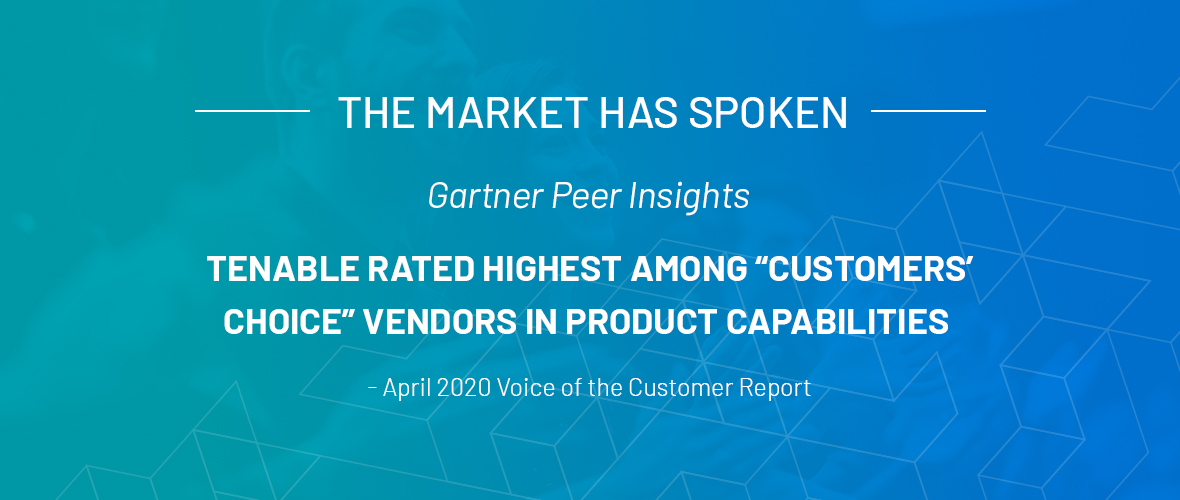 Gartner recently published its April 2020 "Voice of the Customer" report which synthesizes Gartner Peer Insights' customer reviews from the previous year into insights for IT decision-makers. The report analyzes more than 555 reviews and ratings in the vulnerability assessment market in the 12-month period ending Feb. 29, 2020.
We're proud that Tenable was rated the highest of all 2020 "Customers' Choice" vendors in Product Capabilities with a 4.7 out of 5 stars in the 2020 Gartner Peer Insights "Voice of the Customer": Vulnerability Assessment report.1 We believe this is a valuable peer perspective that can play a key role in helping you choose the best solution for taking a risk-based approach to vulnerability management. 
Reviewers represented a broad range of company sizes, industries, and geographical regions. We think this shows Tenable's breadth of reach and the diversity of customers that have provided positive reviews of our products. 
Tenable has an Overall Rating with the most 5-out-of-5 star ratings of all the March 2020 Customer's Choice vendors for Vulnerability Assessment on Gartner Peer Insights, based on a total of 142 ratings as of 7/7/2020. Below are a few excerpts:
"Tenable is easy to use and easy to understand. You can configure their reports down to the level of each individual cell in a table, and it's not hard to learn. I wish we'd switched a long time ago." - Analyst, Network & Infrastructure, Transportation Industry
"User of Tenable products since 2001 and would consider it to be "Best of Breed" Tenable.sc has allowed easy implementation and consolidation of information from our 40 plus Nessus scanners and 25,000 plus agents across our environment ... Using both SC and io, we were able to quickly and effectively address issues associated critical and exploitable vulnerabilities on and off site." - Chief Information Security Officer, Government Industry
"Tenable IO Is The Best I Have Seen For Reporting and Remediation Of Vulnerabilities … I Love The VPR Rating That Compliments The CVSS By Giving Real Data On Threat Intelligence." - Systems Administrator, Education Industry
"We have been using Tenable.io for over 2 years now and I continue to be impressed by the continued product improvement. We moved away from another solution and that decision continues to pay dividends. Given the size and complexity of our organization, they have worked with us on our needs and introduced features like the ability to do asset tagging and adjust vulnerability scores, enabling us to focus on what matters most - risk." - Director of Enterprise Security Operations, Manufacturing Industry
"About Tenable I like the most is risk based prioritization based on threat modeling, highest CIS certified solution (with 126 benchmarks) & Maximum CVE coverage against their close competitors. Others are: Role based access – Asset tagging and assignments to asset owners for vulnerability related risks Workflow automation – For effective vulnerability management by automating remediation and response." - Manager, Transportation Industry
Helping our customers focus on the vulnerabilities and assets that matter most is at the core of everything we do. We are committed to delivering the most comprehensive risk-based vulnerability management solution, including:
A contextual view of risk: Go beyond using a common vulnerability scoring system (CVSS) rating by supplementing that score with essential contextual data, including threat and exploit intelligence; an assessment of asset criticality; and continuous analysis of 20 trillion threat, vulnerability and asset data points. 
Continuous visibility: Our platform renders an accurate risk score for every vulnerability within seconds by using machine learning automation to process and analyze essential security data.
Risk-based prioritization: Reduce the greatest amount of business risk with the least amount of effort by using our vulnerability priority rating (VPR), asset criticality rating (ACR) and predictive prioritization to help you focus on the 3% of vulnerabilities that pose the most risk.
Read the Gartner Peer Insights 2020 "Voice of the Customer" report to see why customers highly rate Tenable for cyber risk management.
1.  Based on 156 total reviews, as of Feb. 29, 2020
Note: Gartner Peer Insights Customers' Choice constitute the subjective opinions of individual end-user reviews, ratings, and data applied against a documented methodology; they neither represent the views of, nor constitute an endorsement by, Gartner or its affiliates.
Are You Vulnerable to the Latest Exploits?
Enter your email to receive the latest cyber exposure alerts in your inbox.