Find Your Fit on Team Tenable

Engineering, human resources, product management and billing: Here's how four employees with a wide range of skills are making their mark in cybersecurity.
At Tenable, we're united in a common mission: to help organizations around the world reduce their cyber risk. While the mission requires a formidable engineering bench, you don't need to be a techie to make a difference in cybersecurity. 
By embracing diversity of skill sets and experiences,  team Tenable is empowered to meet the challenge of our expanding threat landscape. We're people first. We're analysts, creatives, engineers, and more. The causes we champion, hobbies we nurture and the people we love make us better teammates. If you're passionate about reducing cyber risk and making the world a safer place, you have a role to play at Tenable. 
Meet four of our best and brightest from across the organization to learn about their accomplishments, personal interests and advice for hopeful applicants. Read their stories and envision where you will fit into Team Tenable.
Leading with inclusion on Tenable's security engineering team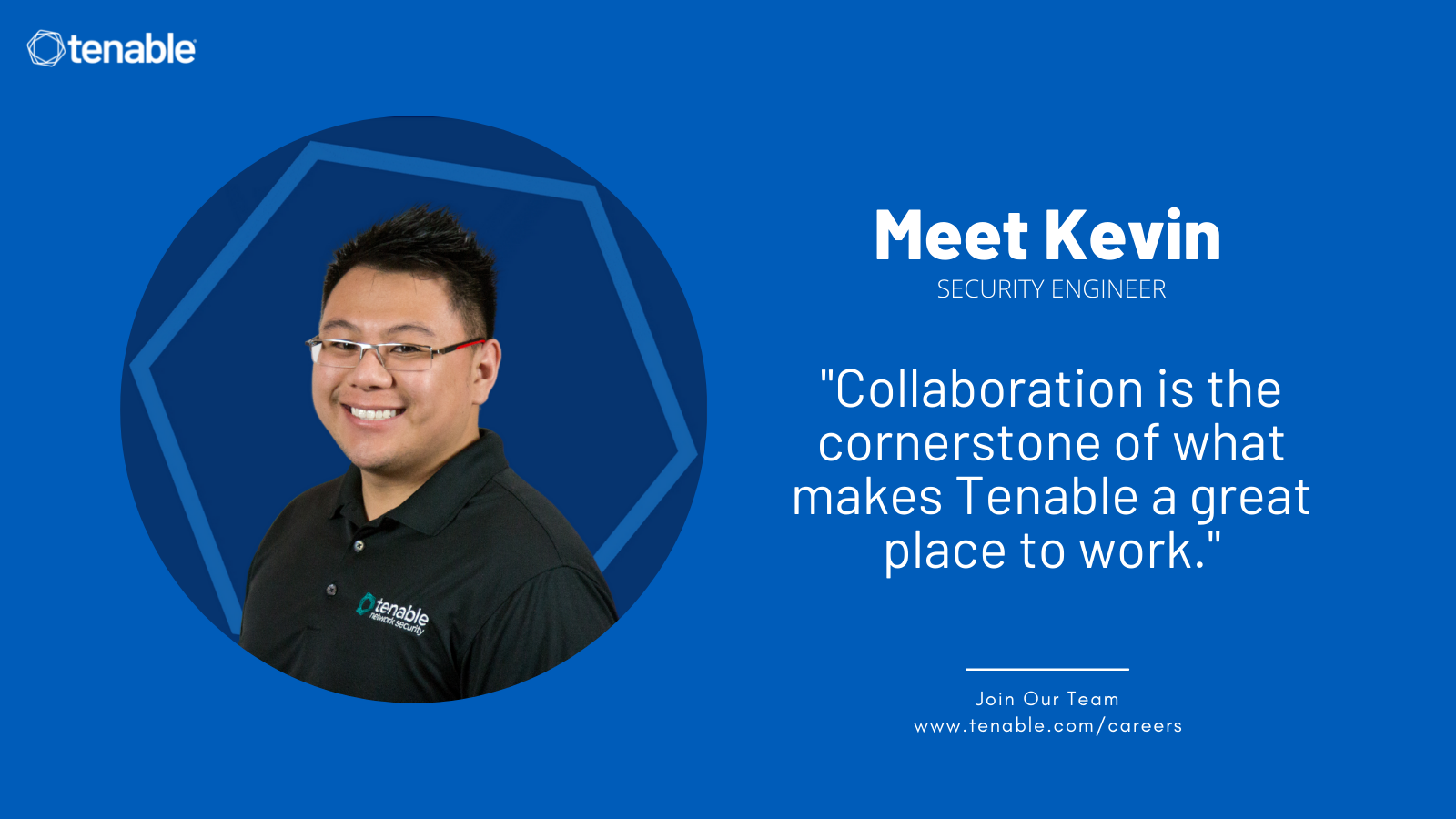 "I joined Tenable right out of college. I enjoyed using Nessus Professional during my studies and decided to apply. My favorite parts of working here have been the employees and the feeling of community, or what we call One Tenable. We create opportunities to work together across departments and I've made meaningful connections with my colleagues. Now, I'm glad to make a more profound impact on our team as co-leader of our [email protected] employee resource group. It's Pride Month in the U.S., so it's been rewarding to host special events and share resources for our LGBTQIA+ employees and allies. 
"Outside of work, I love to bake sweets because dessert in the oven is one of the best smells!
"If you're interested in joining Tenable, my advice would be to be a team player and stay open to new ideas. Collaboration is the cornerstone of what makes Tenable a great place to work."
— Kevin Wen, security engineer
Following your passion on Tenable's human resources team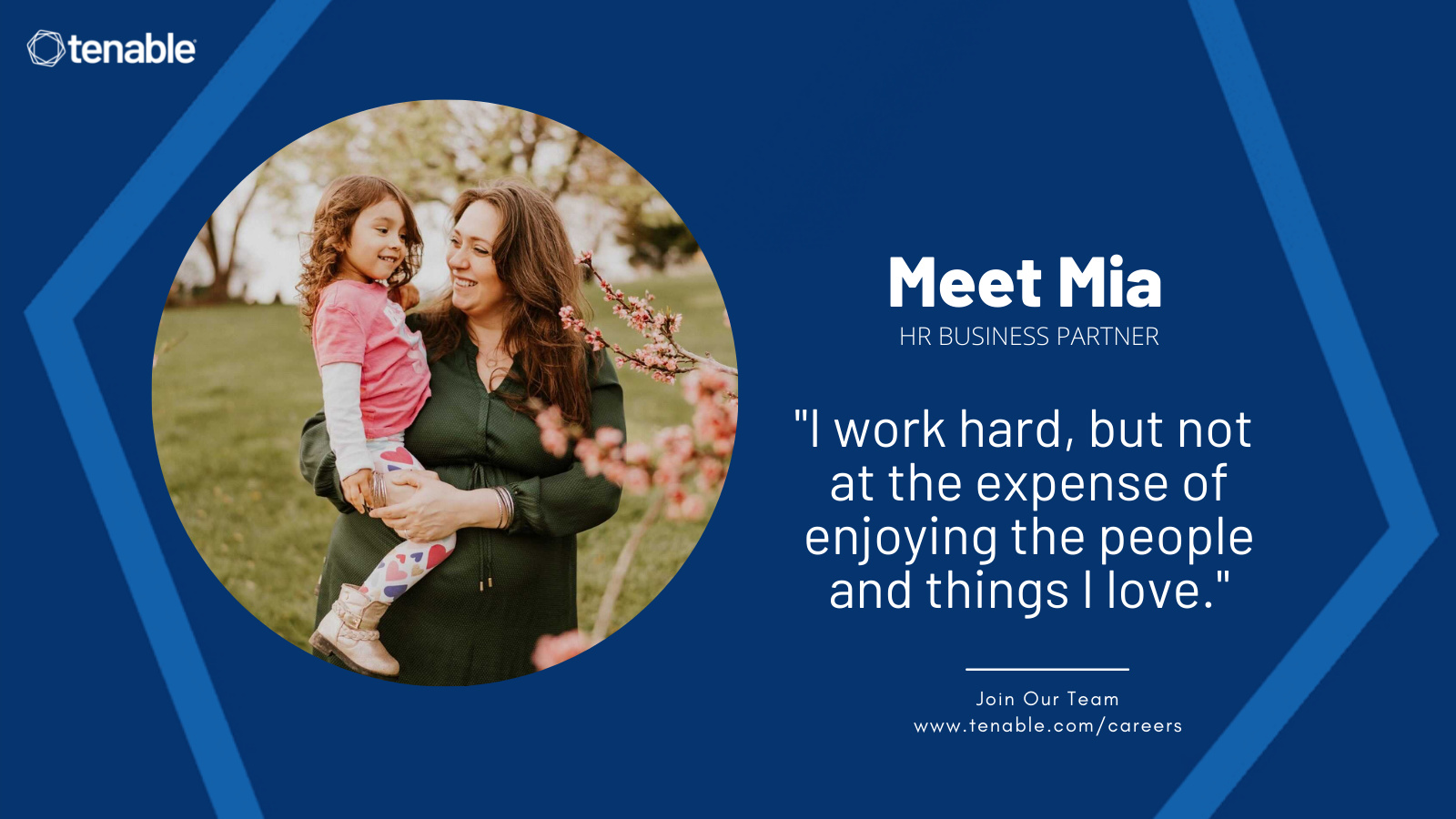 "I was looking for a place where I could be myself and feel accepted. I wanted an environment where I could expand my knowledge and skills. I was excited to join Tenable and find that I could challenge myself as part of a larger HR team. I recently received recognition for creating the Green Initiatives program to bring employees together in the name of living a greener, more sustainable lifestyle. I've received support and guidance from my supervisor and other senior leaders at Tenable on this passion project. It means a lot because, although it isn't part of my regular HR work here, they could tell it was something I believed in and encouraged me.
"In my free time, I love being out in nature with my daughter, showing her all the wonders and watching her absorb knowledge in her own way. Work-life balance is important to me. At Tenable, I work hard, but not at the expense of enjoying the people and things I love.
"To those who want to join our team, be open to tackling new problems because it will only help you grow. Apply today!"
— Mia Liccini Ramos, HR business partner
Driving innovation on Tenable's product management team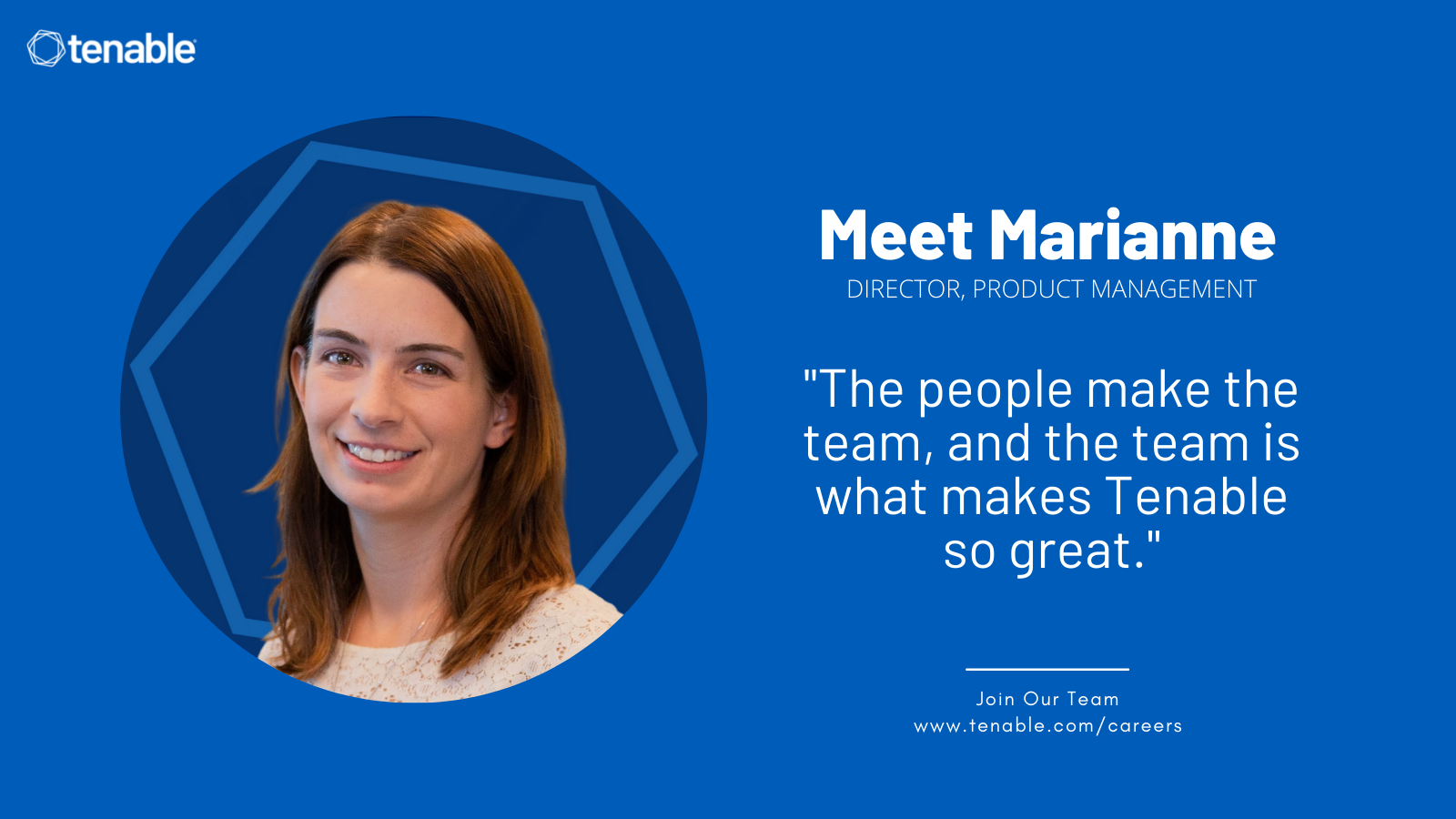 "I was ready for a change after 15 years of experience building products in the digital media industry. Tenable appealed to me because of its mission to prevent cyberattacks. Given how much of our lives and information are digital today, it's scary to think about the consequences of companies not taking information security protections seriously.
"I'm proud of the work my team and I have done around customer experience and education. We've been focused on enhancing our products by providing helpful resources to streamline the onboarding process for our customers and bolster their growth. I'm also excited to co-lead our [email protected] group and expand the community of women and our allies at Tenable. It's great to see women in technical fields, and I'd love to see more women advance in leadership roles. I've relished working with smart, motivated and innovative people who care about what we do here. The people make the team, and the team is what makes Tenable so great.
"For leisure, I love being outdoors. In the winter, you'll find me on the ski slopes — hopefully somewhere in the Rocky Mountains. And in the summer, you'll find me mountain biking, hiking, running or playing with my kids at the swimming pool.
"If you're curious about joining Tenable, visit our website to learn more about vulnerability management and cybersecurity in general. Download Nessus Essentials (it's free!).
— Marianne Gutshall, director of product management
Making a successful career change with Tenable's billing operations team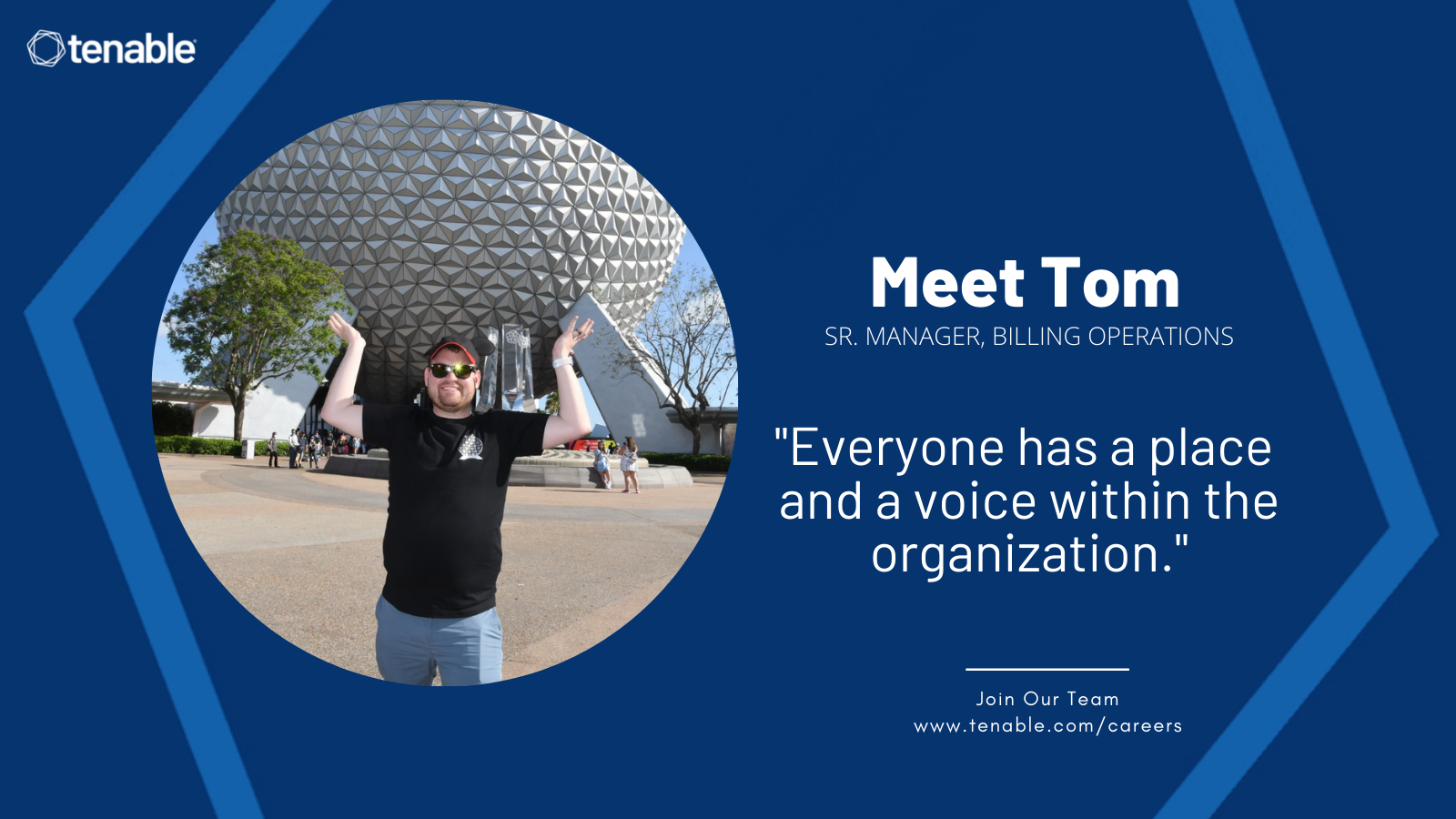 "I was working as a manager at Wegmans Food Market and looking to make a career pivot. I wanted to spend more time with friends and family while working for an industry-leading company making a real-world impact. As a kid, I always loved the latest and greatest tech and dreamed of working for a technology company one day. Seeing the rapid growth of cybersecurity, it was a no-brainer to apply to Tenable. Now, I can confidently say it's been one of the best life decisions I've made to join Team Tenable!
"My proudest achievement here is winning a team award for innovation. I suggested implementing automations to increase productivity in my department and created lasting business relationships that have furthered our growth. I've also been promoted several times, including a new cross-departmental move that I'm excited to start in July. My favorite thing about my experience here is that I feel heard. Tenable gives employees regular opportunities and various avenues to share feedback, ask questions and learn from executives. Consistent communication makes everyone feel like they have a place and a voice within the organization.
"Beyond work hours, I spend time recording my podcast, Oh Boy! (Listen on Apple, Spotify, and Anchor). My cousin and I talk all things Disney World, sharing our favorite eateries, attractions and travel tips.
"For those interested in joining Tenable, never be afraid to reach for the stars. Tenable wants to see employees grow and promotes from within when opportunities arise."
— Tom Bandini, senior manager, billing operations
Learn More
Are You Vulnerable to the Latest Exploits?
Enter your email to receive the latest cyber exposure alerts in your inbox.